I paid a visit to the Birmingham Botanic Gardens a few weeks ago. It's about a half-hour walk from the University. The weather had started off dry, but it began to drizzle after I arrived and had my lunch and a large cup of tea.

The Botanic Gardens, in addition to several fine glasshouses, features an aviary and a children's garden. At this time of year and in that weather, the outdoor areas don't attract many visitors. Humuhumu was in nursery, so my 100 mm macro lens and I had plenty of time and no crowds to contend with. This is my way of warning you that there are a lot of pictures in this post.

Birds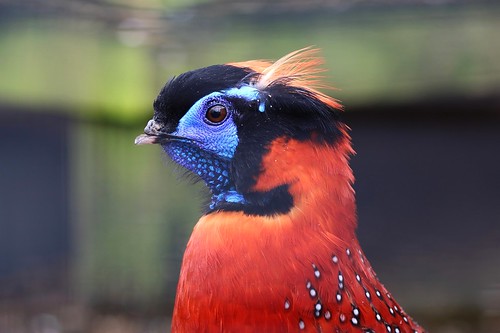 Pheasant: Temminck's tragopan.



Inquisitive parakeet.



Peacock.



This finch put up a horrendous fuss when we entered the aviary.



I finally got a peep at the nest beneath him and discovered why.

Sculptures


Animal sculptures. I particularly like the tilty-head boar. "Nur?"



I like the way this bust looked in the rain.



And this couple.



Kissing bird sculpture.



Fountain.

Fruit and flowers


The only succulent in bloom in the desert glasshouse. (Sturt peas, identified by
ironed_orchid and
rinkle)



Strange fruit. (Buddha's Hand fruit, identified by
redsixwing)



Cyclamen.



Hellebore.

The Children's Garden


The paintings were pleasantly arranged.



More paintings.



And more paintings.



Apple sculpture.

This entry was originally posted at http://nanila.dreamwidth.org/916959.html. The titration count is at
.0 pKa.